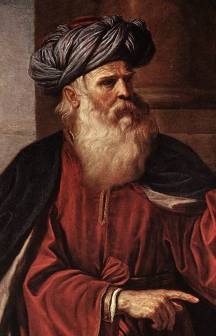 David, my son, do not be so much in a rush to make what is a covenant into not a covenant just because you do not see something to your liking in the canon. And you, Ronan, and you J., and you Luthor. Such smart boys, how are you such noodnicks, such nuchshleppers!

David, there is no promise of salvation outside of my lineage, is there? No. You either have to be one of my literal children or adopted into my family in order to obtain the salvation of the Lord. My son Paul and my son Joseph both speak of this, as is is written. Oi! Gevalt! These kids today! Ongeblussen! And what about Peter! Oy! Schmo!

David, my son, you are missing the forest for the trees. Don't be so dogmatic. And quit it with the kvetching, would you? You say that the the Temple you make a covenant, when you are just redoing what I already did so you may make the same covenants I already made. Guess what? If you want to be in my family, you have to be baptised and take upon you the name of Christ, otherwise you are not going to the Temple in the first place! Taking upon you the name of Christ is not a covenant? David, if it is not a covenant, why do you need the Priesthood to administer it? Ach, if it is not a covenant, then what is it? A nice thing? A quick bath? A waste of water? David, such a nice boy, such a nice, nice boy. Don't be such a kuni leml, huh?